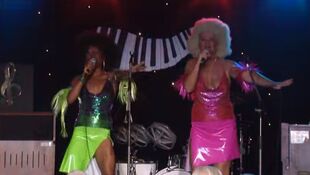 Two's Company was an act that performed during on of Jerry's Free and Easy Nights. They played during the night of the Kamikaze Lager Quiz Night. Their songs included We Are Family and I'm So Excited.
At some point during the night, Jerry became under the influence of strong drugs and stole the green outfit and black wig. He then wore it and entered the quiz room next door before collapsing and publicly urinating.
Ad blocker interference detected!
Wikia is a free-to-use site that makes money from advertising. We have a modified experience for viewers using ad blockers

Wikia is not accessible if you've made further modifications. Remove the custom ad blocker rule(s) and the page will load as expected.