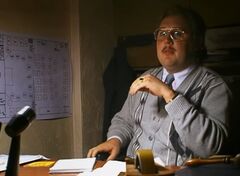 That Peter Kay Thing was a one-off mockumentary series produced for Channel Four written by Peter Kay. Each episode focused on a different character and followed them in their day-to-day lives. It encapsulated and mocks the typical documentaries shown on Channel 4.
In The Club
Edit
The first episode, entitled 'In The Club', was the inspiration for Phoenix Nights. It introduced Brian, Max and Paddy, Jerry and other regular members of staff. The episode takes place in the Neptune Club, which would later become The Phoenix Club.
The Neptune is shown as a struggling club with lack of funds and with a dwindling number of drinkers. In an interview, Brian states that when he took up the position of secretary and manager, that the club was seventy thousand pounds in debt. According to him, he "turned the place around", despite backlash from other members of staff.
The episode also shows Brian to have a wife by the name of Marion, whose picture he carries in his wallet. We are also introduced to Jerry Dignan, who by the time of broadcast, has been working as the club's compere for seven years. The episode is filmed during one of the finales of Talent Trek 1999. According to Brian, it wasn't Talent Trek that brought in all of the customers, but instead the crew of the documentary.
Where the doormen are concerned, Max and Paddy make their first appearance. They are "local doormen" that have been drafted in by Brian in lieu of the documentary. It also introduces Paddy as being a well-known promiscuous figure around the area, as he tells Max that he had sex with Debra, the wife of a friend of Max's. This episode marks their first contact with the club.
Les, of Les Alanos, reveals that before the band, he was in another another, in which he played alongside Alan's father Frank. Frank later left the band to create 'Right Said Frank', a tribute group. It was for this reason that Les and Alan decided to group together and create a band of their own.
We join Jerry in his 'private dressing room' where he reveals that he comes from a "musical background". His father apparently played the bugle in the Boys' Brigade and his Auntie Rena on his mother's side played the organ at the Apollo.
The episode explains why Brian is bound to a wheelchair. It is set four years after Brian's accident, in which he was caught under a floating fruit machine, while managing the Aquarius Club. By the end of the episode, we see that Brian wasn't completely truthful about the accident. After his "economising" of the fairy lights results in the Neptune burning down, he is seen to get out of his wheelchair.