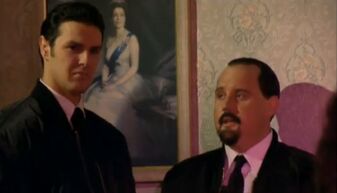 Singles Night was an event at the Phoenix Club organised by Brian Potter. Most of the staff attended and some of them even managed to find dates.
Successful encounters
Edit
During the evening, Brian accidentally bumped into a lady called Beverley and spilt her drink. He bought her another to replace it and managed to get a date with her. After spending a lot of time together, Beverley eventually revealed that she worked for the DSS and that her true reason for being at the Singles Night was due to her investigating a fraud claim.
At some point in the evening, Paddy noticed another girl working behind the bar. Alan then revealed the girl to be Mary, the daughter of Holy Mary. Despite Alan's warnings of her being too young for Paddy, Paddy went and chatted her up. This eventually led to a brief relationship between the two of them.
Later in the evening, Alan managed to cop-off with an elderly lady and was seen dancing close to her on the dancefloor.
Unsuccessful encounters
Edit
Other staff members did not find dates. Max wasn't interested in meeting anyone but attended anyway. Les tried a couple of times to chat up women but was rejected every time. One of his failed lines was "I'm horny. Horny, horny horny", to which the woman told him to "piss off".