Ray Von


Vital statistics
Position
DJ, electrician
Born
Unknown
A.K.A.
n/a
Spouse
Tracy Burns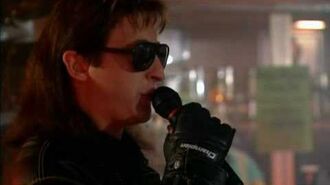 Ray Von was a DJ and handyman at the Phoenix Club. Ray Von could be a stage name based upon the words "Rave on".
Ray joined the team when he fixed a power cut in the club. Upon finding out that Ray was also a DJ, Brian offered him a job at the club as a general handyman and, of course, DJ. Unbeknownst to Brian, Ray's idea of "fixing" the power cut was to rig the electrics up to an outside street lamp.
One of his catchphrases was "Shabba!". He would usually shout this during a disco, a key part of most events. His DJ skills earnt him the nickname "The Yorkshire Rapper" by Brian
Love life
Edit
Ray Von had a girlfriend named Tracy Burns. At the start of his career as DJ in the Phoenix Club, Brian was duped into believing that Ray had murdered his girlfriend. Upon approaching his "recent girlfriend" to warn her, he found that she was Tracy Burns and that it had all been a joke.