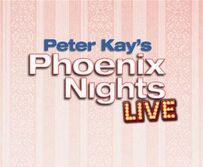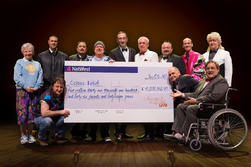 Peter Kay's Phoenix Nights Live is a Comic Relief stage version of Phoenix Nights, starring the original cast from the TV series.
The live show was performed at the Manchester Arena from 31st January until the 16th February 2015. During the opening show, actor Ted Robbins collapsed due to a heart problem but the team decided that the show would go on.
The show revolved around the members of the Phoenix Club putting on an extravagant show, aware that proceeds would be going to Comic Relief.
Ad blocker interference detected!
Wikia is a free-to-use site that makes money from advertising. We have a modified experience for viewers using ad blockers

Wikia is not accessible if you've made further modifications. Remove the custom ad blocker rule(s) and the page will load as expected.