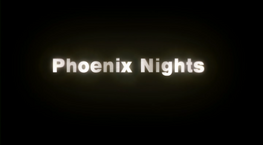 Phoenix Nights is a British sitcom about the manager, Brian Potter, and his working men's club, the Phoenix Club. The show was written by Neil Fitzmaurice, Peter Kay and Dave Spikey and is produced by Goodnight Vienna Productions. Further material was provided by Paddy McGuinness.
The show ran for two series and twelve episodes during the years 2001 and 2002. In 2015, the series made a comeback tour for Red Nose Day. The original series broadcast on Channel 4 in the UK.
Birth of the Series
Edit
The series itself was born out of an episode Kay's original comedy show, That Peter Kay Thing, and itself provided a further spin-off Max and Paddy's Road to Nowhere. Throughout all three series, Kay plays numerous roles. Phoenix Nights won the British Comedy Award 2002.
Characters
Edit
A full list of characters is available here.
Brian Potter (played by Peter Kay) is the owner of the Phoenix Club. He is also a wheelchair user. Potter has previously owned two clubs.
Den Perry (played by Ted Robbins) is the owner of the rival club, the Banana Grove. He regular provides Potter with dodgy acts and is also the reason behind the first Phoenix Club burning down.
Filming Location
Edit
The series is not only based in Bolton, it's also filmed on location in Farnworth, near Bolton. The club itself is filmed at St. Gregory's Social Club on Church Street, Farnworth.
Episode Guide
Edit
A full list of episodes is available here.
Phoenix Nights is made up of two series, both of which contain six episodes. In the finale of the first series, the Phoenix Club is burnt down by Den Perry. The second series sees the Phoenix "rise from the ashes".
The first series was made up of six episodes, broadcast from 14th January 2011 to the 18th February 2001. Series Two is made up another six episodes, broadcast from 8th August 2002 to the 12th September 2002.
The Future of Phoenix Nights
Edit
In September 2006, Kay made it known on Radio 1 that he had written a third series of Phoenix Nights but made no reference as to whether or not it would be filmed and broadcast. On the 8th May 2008, he announced that the possibility of it being made was promising.
Kay was also approached to make a Phoenix Nights movie due to the success of The Inbetweeners Movie. In August 2014, Kay wrote a Phoenix Nights live show, which opened in 2015 with the cause of raising money for Comic Relief.
External links
Edit