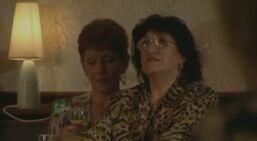 Moira was a regular punter at the Phoenix Club. She attended may events including the Phoenix Opening Night and Singles Night.
On Opening Night, Jerry went up to Moira and her friend, who he referring to as 'the Glamour Girls', and attempted to make a conversation about her husband Ronny. Upon asking her whether he was still in hospital, she responded that he had died. The conversation turned awkward and so Jerry moved on swiftly.
During the Singles Night, her and a friend turned up for a dance.