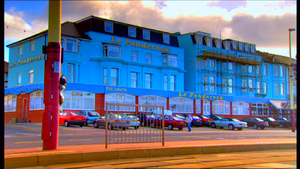 La Ponderosa
was a hotel in
Blackpool
located on the "Golden Mile" and run by Brian Potter's old friend
Frank Cartwright
. Frank opened the Blackpool business, after leaving "Clubland" some years earlier. It is implied that Frank and Brian were friends when Frank owned a club in Clubland, but haven't seen eachother since he left.
After been rejected by Jerry after declaring his intention to re-build the Phoenix Club after it burnt down due to Brian not having a license or a brewery, Brian visited Frank for advice on how to re-open the club despite these set-backs.. Frank advises him to leave Clubland, and set up a business in Blackpool instead, like he did, but after Brian insists he wishes to stay, Frank advises him how to evade the licensing laws, and re-open.
Ad blocker interference detected!
Wikia is a free-to-use site that makes money from advertising. We have a modified experience for viewers using ad blockers

Wikia is not accessible if you've made further modifications. Remove the custom ad blocker rule(s) and the page will load as expected.