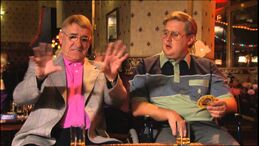 Frank Cartwright was an old friend of Brian's. Brian traveled to Frank's hotel in Blackpool to get advice on how to re-open the Phoenix Club due to Brian not being able to obtain a license after the fire and having no brewery. It's assumed that the pair hadn't seen each other in a long time, and that Frank also used to own a club in Bolton, before moving his business to Blackpool's golden mile .Frank wasn't aware about Brian's disability, while Brian stated that Frank was bald the last time they'd seen each other.
In order to get around been blacklisted by the brewery, Frank told Brian to instead get bottles and cans of cheap alcohol instead - insisting that people don't care about what they drink but where they drink it before adding that once Brian makes a success of it, the brewery will come back to him. When Brian states he doesn't have a license to serve alcohol, Frank states that he doesn't either but he still calls the shots, telling Brian to find a 'fall guy' - someone who can become the licensee instead but whom Brian can manipulate. 
Brian follows Frank's advice as well as been inspired by La Ponderosa having "everything under one roof", with him convincing his colleagues to rebuild the Phoenix better then before and convinces Jerry to become the new licensee, while Max and Paddy journey to Calais to collect bottles of cheap alcohol. As predicted by Frank, the brewery eventually congratulate the Phoenix Club for their success and agree to meet to discuss a deal.