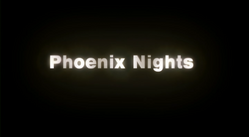 Phoenix Nights ran for two series and has an upcoming live show. The original series ran from the 14th January 2001 until the 12th September 2002. Phoenix Nights Live will run for two live shows in early 2015.
Series One
Edit
Episode One - After his previous clubs had either flooded or burnt down, Brian Potter has faith in his new club and opens up 'The Phoenix Club'. Opening night doesn't go as planned but faulty electrics and a dodgy DJ are the least of his worries.
First broadcast: 14th Jan 2001
Episode Two - Dodgy Eric lends the club a bucking bronco, leading them to hold a Wild West Night. This leads to disaster when they end up with a drunk horse, a shoot-off and a faulty smoke machine.
First broadcast: 21st Jan 2001
Episode Three - Fire inspector and dog botherer Keith Lard visits and threatens to shut down the club on one of the Phoenix's busiest nights and with the act being a recommendation from Den Perry, surely there must be something wrong with the psychic that they've booked?
First broadcast: 28th Jan 2001
Episode Four - Singles night at 'The Phoenix'!! Brian accidentally runs over someone's foot in his wheelchair which leads to him thinking that he's found the love of his life, the 'gorgeous' Beverley. Brian is all smiles and giggles till he finds out that she works for the council and was only in the club to investigate Brian's false disability claims!
First broadcast: 4th Feb 2001
Episode Five - Robot Wars night at 'The Phoenix' sees Max & Paddy deciding to team up with Ray Von to see if they can scoop the prize. Meanwhile Jerry visits a hospital for cancer tests and then returns back to 'The Phoenix' to find that it is overrun with students taking the mick out of the comedians. Jerry who is already feeling down, decides to give them some of their own medicine and runs them out of the club with his witty comedy. This leads to Jerry being offered a job on a cruise ship. Where does his future lie…
First broadcast: 11th Feb 2001
Episode Six - Jerry gets the all clear from the hospital only to be told by Brian that 'The Phoenix' will be staging Talent Trek, only because Brian told the committee Jerry was dying! 'Les Alanos' are unavailable so Brian drafts in 'Right Said Frank' who turn out to be thieves who steal from cars during the intervals. This leads to a mass brawl between the tribute band and Max & Paddy! Brian reveals fake test results that give Jerry the all clear and so Jerry decides to stay on at 'The Phoenix'. The series ends with jealous rival club owner Den Perry discarding one of his cigars into a toilet waste paper basket that causes a fire to break out...
First broadcast: 18th Feb 2001
Series Two
Edit
Episode One - The Phoenix Club suffers an arson attack, and the staff are all out of a job. Brian Potter is convinced club rival Den Perry did it. And with the threat of losing his club licence, Potter plans to rebuild the club and get the staff back together. But Jerry isn't so sure.
First broadcast: 8th Aug 2002
Episode Two - The Phoenix has a grand re-opening. Jerry is the new club licensee, but discovers every decision he makes is dismissed by Brian Potter, Meanwhile Max and Paddy travel to France to buy cheap booze, but return home with more than just beer.
First broadcast: 15th Aug 2002
Episode Three - Club rival Den Perry advertises in the local paper about a big event happening at his Banana Grove club, which annoys Potter. So he has the idea of getting his own free publicity by re-creating the club fire for the TV show "CrimeTime"
First broadcast: 22nd Aug 2002
Episode Four - Brian plans to win a years supply of continental lager by rigging a quiz while Jerry's Free'N'Easy night takes a funny turn as his liberal use of prescription drugs leads to an unusual game of bingo.
First broadcast: 29th Aug 2002
Episode Five - Brian plans the opening of his new in-house Chinese restaurant while Max and Paddy consider a strange offer by a femme-fatale.
First broadcast: 5th Sep 2002
See also
Edit
Phoenix Nights was preceded by a one-off episode "In The Club" in the series That Peter Kay Thing. The episode sees the Neptune Club before its burning to the ground. Phoenix Nights takes place directly afterwards and sees the rise of the Phoenix Club, which replaces the Neptune.
The final episode of Series Two shows Max and Paddy escaping in a motorhome after receiving a possible death threat. This leads to the spin-off series Max & Paddy's Road to Nowhere, starring main characters Max and Paddy with the occasional appearance of Brian Potter.