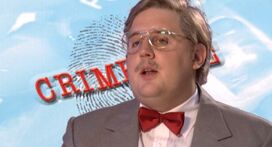 Crimetime was a British TV programme, which covered real crimes in an attempt to catch the perpetrators of the crimes.
After the burning of the Phoenix Club, the club was eventually reopened. For the purpose of free publicity, Brian decided to appear on the programme, talking about the night of the fire. Crimetime took over the club for a short period in order to film a reconstruction, during which Brian insisted on playing himself. Brian used this reconstruction to show off his low prices and exact locations of the pub.
Ad blocker interference detected!
Wikia is a free-to-use site that makes money from advertising. We have a modified experience for viewers using ad blockers

Wikia is not accessible if you've made further modifications. Remove the custom ad blocker rule(s) and the page will load as expected.