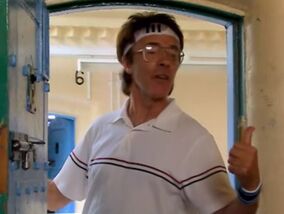 Cliff was a prison inmate who was convinced that he was the real Cliff Richard.
Personality
Edit
Whilst being a pleasant and friendly person, Cliff was under the impression that he was the real Cliff Richard. He was always inviting the other inmates to play tennis with him, which started to annoy Paddy during his short spell in prison with Max.
To add to his crazy side, Cliff worshipped the real Cliff Richard so far as to have a shrine in his cell. He would stare at the pictures of Cliff Richard whilst singing his songs, one such occasion being Our Father Who Art in Heaven.
Ad blocker interference detected!
Wikia is a free-to-use site that makes money from advertising. We have a modified experience for viewers using ad blockers

Wikia is not accessible if you've made further modifications. Remove the custom ad blocker rule(s) and the page will load as expected.