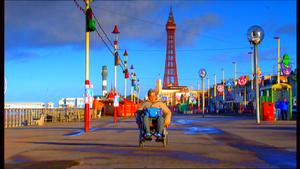 Blackpool
was a British holiday destination, which housed many pubs and clubs.
One of the clubs in Blackpool was La Ponderosa, located on Blackpool's "Golden Mile" and run by Brian Potter's old friend Frank Cartwright. After been rejected by Jerry after declaring his intention to re-build the Phoenix Club after it burnt down due to Brian not having a license or a brewery, Brian visited Frank for advice on how to re-open the club despite these set-backs.
Ad blocker interference detected!
Wikia is a free-to-use site that makes money from advertising. We have a modified experience for viewers using ad blockers

Wikia is not accessible if you've made further modifications. Remove the custom ad blocker rule(s) and the page will load as expected.