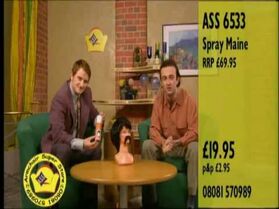 Armchair Super Store was the shopping channel watched by the staff at the Phoenix Club. The telephone number for Armchair Super Store was 08081 570989.
Products
Edit
Spray Maine - a spray-on hair product, bought by Paddy.
Divers Watch - a watch with a light that could work underwater and that measured your oxygen, bought by Max and Kenny Senior.
Tantasy - a tan aide from South America with the slogan "Tanning with Tantasy isn't a fantasy."
Invader 2000 - a car alarm system, which enabled the buyer to prerecord their own alarm. It was bought by Max for his own car.
Resident experts
Edit
Baz Hastings - expert on Spray Maine, Piagra and the Tantasy.
John Lennon - expert on the Divers Watch and Invader 2000.