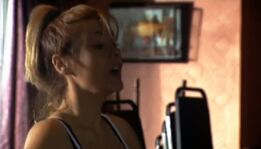 The aerobics instructor ran an exercise class at the Phoenix Club during the day, which was attended by a handful of women. Two notable members were Holy Mary and Edie.
During a fire inspection by Keith Lard, her music was turned down and identified as a problem in the case of a fire. The class continued despite his interruption.
Ad blocker interference detected!
Wikia is a free-to-use site that makes money from advertising. We have a modified experience for viewers using ad blockers

Wikia is not accessible if you've made further modifications. Remove the custom ad blocker rule(s) and the page will load as expected.